We have three beautiful holiday homes and fourteen years experience organising hiking, cycling and jeep safari's. We are a family-run business situated on the untouched corner of the Western Algarve. We invite you to relax and have fun in our beautiful cottages located in the tranquil Portuguese village of Bordeira and in the historic centre of Aljezur.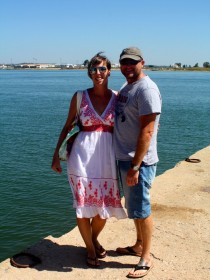 Meet Chris and Anton. Read 'Our Story' to see what how our passion for the natural beauty of the western Algarve has guided us to become specialists in:
Holiday homes – Check out our three beautiful cottages
Guided mountain bike tours – Explore our cycle tour options
Jeep safari's – Adventure is round the corner with our unique & personalised Jeep tours
Trailriding – Join us on a discovery of some amazing offroad tracks with our trailriding fleet
Guided walking tours – Enjoy untouched areas of natural beauty




The local surroundings boast uncrowded sandy beaches, beautiful natural landscape and a magnificent coastline with breathtaking views. We genuinely love to show you this wonderful part of the Algarve! if you have an interest in nature and the outdoors you are invited to stay at one of our beautiful cottages or get involved with one of the in house activities.